I am usually not a black friday shopper. The whole waking up at 4am after a day of eating and drinking just does not sound appealing to me, but when I found out that all of GAP was 50% off until 10am, I changed my tune a bit. Since I had also saw some deals on movies and toys at target, I suggested to Adam that we go and see what deals we could scrounge up. He was reluctant at first I think, but ended up enjoying our time out before the sun came up!
We got a bunch of movies for $3.99 as well as a few toys for his daughter at target. We got there at 6 and since every lane was open, there were no lines and we got out within 15 minutes. We headed to Millenia Mall and got into GAP around 6:20. Luckily, not many people were there. The sale was even on already reduced merchandise, so for $50 I got a bunch of cute things!
I LOVE my City Flats and have really started to wear them down. I won't say that they are the best quality, but they are really comfy and super cute, so when I saw a Metallic Gold pair on sale, I scooped them up. I ended up paying $10 for them and kind of wish I had bought 2, because I know that I will be wearing these out by the end of the season!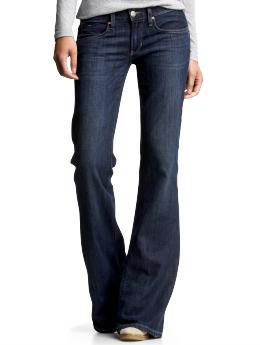 Ever since these Vintage Flare jeans have come out I have contemplated buying them. My problem is that I have a weird addiction to buying jeans, so I need to wait for them to go on sale or else I would literally spend all of my money on denim. These are super soft and they only had 2 pairs in a size 6 that were on sale. With the 50% off they came to $15! They are a little darker than this picture, and long enough that they need to be worn with heels.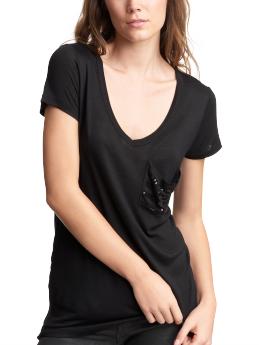 In Florida you can really wear short sleeves at any time of the year. In the winter months you occasionally need to throw a coat on overtop, but you can still get away with it when you're indoors. That's why I wanted to pick this Sequin Pocket T up. It's a little dressier and a basic color that can go from day to night. I am actually going to be getting this for Christmas. It was full price so it came out to $15 with the sale.
Last year GAP had berets and I almost got one, but.......then I didn't. I wasn't too sure about them, but this year I definitely knew that I wanted one. I think that they are just a fun accessory to have, so I got this cream knit one with gold specks. The gold is very faint but the hat is cute. I wore it out on Saturday and Adam declared that he had never been with a French girl before. :)
Has anyone taken advantage of Cyber Monday Deals? I finished up Adam's gifts so I saved a few bucks, but nothing outrageously good.
Yesterday I thought that it was going ot be cool out, so I wore a sweater to lunch and the Tree Trim at my parents. Turns out it was quite warm and probably in the 80s! I won't complain though because I'm ready to wear long sleeves now that it's officially Christmas Time! I broke out my new
VS Silk and Cashmere Scoopneck Boyfriend Sweater
. It's one of the rare items that I found worked for me. I like how baggy it is, but that the sleeves are more fitted. I would recommend it but say that the downfall is you need to hand wash and dry.
Hopefully everyone got some good deals and is in the shopping and giving spirit! December is only a day away.....